Norristown, PA Residential Sealcoating Services
Driveway Maintenance, Inc. located in Norristown PA, Montgomery County offers residential sealcoating which is a cost effective process used to maintain your norristown pa asphalt driveway. Renew your driveway with residential sealcoating services offered by a local Norristown Resident. Maintain your driveway to its original condition by protecting it from harmful exposure (moisture, oxudation and chemicals). Residential Sealcoating can double the life of your asphalt and enhance the value of your Norristown PA property.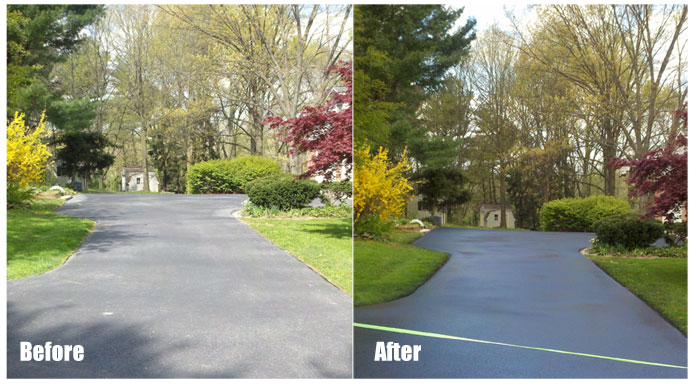 The Difference between a Sealed vs. Unsealed Residential Driveway in Norristown, PA
Left untreaded, an asphalt driveway or parking lot will deteriorate rapidly. The asphalt binder that holds the pavement together begins to oxidize and weather soon after installation. Moisture penetrates the asphalt causing further damage and deterioration to the pavement.
What we do for Norristown Residents?
We do driveway sealcoating, including parking lot sealcoating and commercial sealcoating, driveway resurfacing, paving and asphalt patchwork, asphalt crack filling and asphalt crack sealing, residential driveways, driveway sealing, many other services.
We provide seal coating services for residential and commercial buildings in Norristown PA and nearby communities. We do seal coating to help maintain your Norristown PA driveway or parking lot. You will receive the absolute best service from our local team and we tend to take every project as if it were our own property, remember many members of our team are Norristown PA residents so we take great pride in helping our neighbors. Whether it is a large project like parking lot sealcoating or a small driveway sealcoating of your home, our dedication and efforts will be similar.
Benefits of seal coating
Waterproof seal coating can help to maintain a good texture of coating, even in temperature variations.
Coating makes a surface highly durable and can undergo tough conditions.
Asphalt coating is affordable and a great option for making your driveway look great.
We are experts specializing in seal coating, Driveway Maintenance will do a professional job
Serving the following areas:
Norristown PA, East Norriton PA, West Norriton PA, Plymouth Meeting PA, Lafayette Hill PA, Conshohocken PA, King of Prussia PA, Ambler PA.